Everyone is aware of how necessary it is to have a good credit score. If yours is too low, it can prevent you from getting a loan or a credit card and it can stop you from renting an apartment or getting a mortgage to purchase a home. It is important that you keep track of your credit score and take steps to keep it high enough to do the things you want to do in life.
What Is Credit Mantri App
CreditMantri is a service that helps you keep your credit score high or helps you raise it if you've allowed it to drop. You can access it over the web or use their Android app (sorry Apple fans, there is no iOS app). Once you sign up, you can get a free copy of your credit report.
But that's just the beginning with CreditMantri. Once they've provided you with a copy of your credit report, their representatives can analyze that report for you. This is useful in a couple of ways. One, the representative can explain in simple terms what the credit report is telling others about your credit history. Then you can understand why companies may or may not decide to extend credit to you. The other thing that the representative can do is to give you a personalized plan to improve your credit score.
Also Read- MPL Pro Referral Code, Download MPL Apk App Earn Unlimited Real Cash
If you choose to use their service, the CreditMantri rep can utilize alternate sources of information about you (such as LinkedIn and other social media sources) to help build your credit history and increase your score. The representative will also contact the credit bureau to remove any erroneous information that has been added to your report by mistake. If necessary, the representative can also reach out to credit card companies and negotiate a settlement to help you remove large debts which can drag your score down.
Reviews in the Google app store are generally positive. When the service works, it seems that it can dramatically raise people's credit scores and help build credit for people who haven't had a chance to build it yet.
Eligibility Criteria On Credit Mantri
In order to be eligible for a personal loan, you need to be
A salaried employee or a self-employed individual/professional.
Able to satisfy the minimum and maximum age prerequisite
Fulfill the income requirements and be able to demonstrate a stable income and employment history
How To Create Credit Mantri Account?
Joining the Credit Mantri website is very simple. Following are the few important steps to follow:
Open your browser and visit Creditmantri
Click on the signup option.
Enter your mobile no.
Fill an invite code if you have any at this stage.
Else skip it and verify your mobile number with an OTP.
Enter your details such as email id, marital status, date of birth, pin code, PAN Card no., Etc.
Now you will get your credit scores and your online credit profile will be created.
How To Download Credit Mantri APK?
You Can Download The Credit Mantri APK directly from Google Play Store.
Credit Mantri Refer and Earn
Credit Mantri is coming with a great promotional offer where you can easily earn Rs 100 paytm cash but referring 3 friends. You just need to invite your friends and whenever your friends check their credit score you will get paytm cash.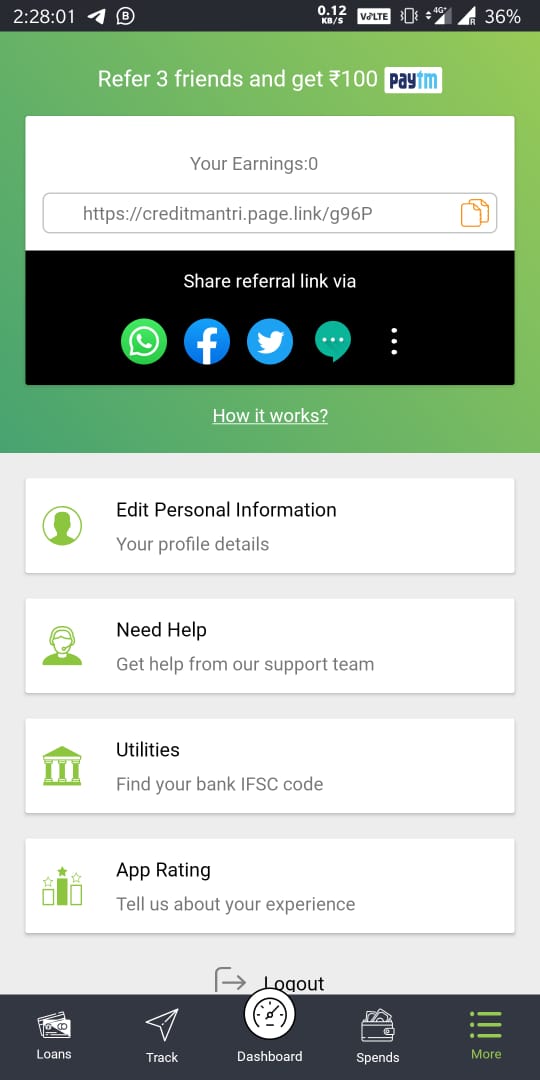 Open credit Mantri app and click on More.
Copy your referral code and share it with your friends and family.
Credit Mantri Customer Care Details
Address: CreditMantri Finserve Private Limited
4th Floor Sudhama, 36 Vijaya Raghava Road, T Nagar, Chennai, Tamil Nadu 600017
You may also like-
Biased Review On Credit Mantri App
The service is only available in India and uses India's Equifax and CIBIL scores to develop your action plan for improving your credit score. If you want to use the app, you will need an Android phone since they do not have an iPhone app yet.
But, if those minor drawbacks are not a problem for you, you might consider checking their service out. The credit report is free as is the analysis. Whether you choose to pay for their assistance in resolving the issues they discover is up to you. You could always take their results and put the work in yourself to call the lenders and the credit bureau to resolve the issues yourself and save the money.
In the end, though, paying to get your credit score improved could still save you money. According to the CreditMantri website, increasing your credit score above 750 can save you a sizable amount of money on a loan. That's certainly worth considering before applying for credit.